C

hapter

1
Captive in World – Free In Spirit
Daniel Put Himself
on a Spiritual Diet
 The first chapter of Daniel establishes the great prophet as the prototype end-times saint. His long and amazing ministry as prophet spanned seven decades, two empires, a host of kings, and lasted the entire seventy years of the Jews' Babylonian captivity. As a young lad Daniel's life looked anything but blessed, it could have looked as though God had forsaken him and his entire race. Jerusalem, God's great city, had been conquered by King Nebuchadnezzar of Babylon. Daniel and his people had been overrun and slaughtered, his king carried blind and bound and in disgrace to Babylon. The Temple, the symbol of Jewish pride and strength, had been ransacked and destroyed, the ruthless Babylonians taking the golden temple treasures of the legendary Solomon with them back to their city and placed them in the house of their pagan Gods. They had defiled and destroyed the sacred things which Daniel and his people held dear, (Jeremiah 52). Daniel was among the 4,600 Jews who had escaped death but not servile slavery among their Babylonian captors.
It is against this troubling backdrop that Daniel's life and prophecies take place. Yet, despite these gloomiest of beginnings, out of the hopeless ruins, God began to bless Daniel and raise him up for his dramatic prophetic mission as world historian and chronicler of the adversarial battle between Christ and Antichrist. Daniel's life was also arranged by God to exemplify the end-times believer. Daniel's life was turned to this exalted ministry when he first arrived in Babylon as a captive. He was seen as a promising young man and taken into the king's house. Up arriving there he risked his place, if not his life, by asking to forego the prescribed king's diet, which included un-kosher food that would defile him. He petitioned the king's chief-aid to let him live on a simple 'godly' diet; from there on out God remained with him through every trial and tribulation, and every upheaval that came upon the Empire and troubled his life and times. We will show how this request of Daniel was symbolic of living on a temperate and full spiritual diet, one which nourishes the soul and spirit while producing a vessel fit for the kind of faith necessary for the ministry as well as the protection of the end-times saint. God had revealed through the prophet Jeremiah that the Jews should go quietly to their captivity into a pagan world with as little fuss as possible. Jeremiah promised, however, that if they would be obedient and do what God commanded, all those who went to Babylon into captivity would find the "peace of the city" (meaning peace in Babylon, that huge city-state of great majesty and glory.) As unlikely as this sounded it turned out to be truly the will of God and all those who went to Babylon instead of resisting, survived and even flourished just as god had promised.
Daniel Conceded to Captivity
Daniel himself was to flourish and become a highly respected man among the Babylonians because he conceded to his captivity – and, for that matter, to God's will in everything he did. As we shall see, Daniel never bowed to an idol, never conceded to intimidation, or blasphemies demanded by the state government, but he simply "rendered unto Caesar what was Caesar's and to God what was God's", stood by the truth and never denied God's name, no matter what the demands of his government or king. The end-times saint can begin his identification with Daniel by realizing he too, is living a life in "captivity", or perhaps better still as strangers in a strange land. We are wanderers in an unbelieving world, hemmed in on all sides by evil works and unbelief. "In the last times perilous times shall come. For men shall be lovers of their own selves, covetous, boasters, proud, blasphemers, disobedient to parents, unthankful, unholy, without natural affection, truce breakers, false accusers, incontinent, fierce, despisers of those that are good, traitors, heady, high-minded, lovers of pleasure more than lovers of God." 2 Tim. 3:1-4 There is only one way out of this kind of captivity - we must look up, we must live by faith and not by sight. The end-times saint is living, as Abraham did, in a "strange country" looking for another city, a heavenly home promised to us by Jesus when He said, "I go to prepare a place for you," The end-time saint must look up for his deliverance, must look to the heavens from whence his help comes, look up for the return of his Savior, Jesus Christ.
Though captives we can be greatly blessed and spiritually free
We are like captives because we are isolated and unable to fit in with this present evil world about us. Remember, Jesus warned us that if the world hated him, it will also hate His servants.
John 15, 18, 19
To this present world we are as the smell of death
2 Cor. 2:16
All those who live godly lives in Christ Jesus shall suffer persecution.
2 Tim. 3:12
The number of heathens and Babylonians (in heart) will grow larger and increase faster than the number of believers will. The love of many will wax cold. That time is already started. The number of those who are judged on earth during the Tribulation will be very, very high. But so be it. "
Because strait is the gate, and narrow is the way, which leadeth unto life, and few there be that find it.
"
Matt. 7:14
While we are captives, and I speak of the faithful church here, surrounded by pagans (unbelievers) and Babylonians (false brethren) and encircled by selfishness and an ever increasing godless world, we, like Daniel, will be blessed with all understanding and wisdom.
Later in Daniel it says "
that the wicked shall not understand, but the wise shall understand.
" Just as Nebuchadnezzar's legions invaded the Temple and stole part of its treasure, so the spirit of the world has infiltrated the sanctuary of the Church and stolen parts of her treasure by causing her to compromise the gospel and seek worldly and political influence, but God will bless those who wait for their deliverance from heaven; just as He blessed Daniel who waited for deliverance from captivity for his people. See if you agree, Daniel was a prototype end-time saint and left us with a good example of how the end-time saint and the gospel should come together as one.
Daniel, and at least three other Jews, were separated from the general populace and made to wait on the king to see if they would be fit for his service. As end-times saints must do, Daniel had to first wait for the king's calling to come. Again - he had to
wait
for the king. Notice that the scripture says that he was of the children of Israel, of the king's seed (like Christians are) in whom was no blemish (the church is also to be without "
spot or wrinkle, or any such thing: and that it should be holy and without blemish
".
Eph. 5:27
It says Daniel was well favored, skillful in knowledge and wisdom, understanding in sciences and had ability to stand in the king's palace. Christians can tap into the treasure storehouse of Christ in which is hid all the treasures of wisdom and knowledge
Col. 2:3
and are welcome to stand boldly in the Holy of Holies.
Heb. 10:19-25
These things are available as never before for the end-times saint. Though surrounded and held "captive" by unbelief, the end-times saint can be wise as Daniel, clean and without blemish and because of the righteousness of Christ they are welcome in God's throne room in heaven, the King of king's palace.
Daniel, and his three Jewish brethren, Hananiah, Mishael, and Azariah were in the care of the master of the eunuchs signifying for us that there is no male or female in Christ. The four servant's names all gave glory to God as our true identity and testimony in Christ also will. In order their four names mean: God is my judge, Jehovah was favored, who is like God, and helped by Jehovah. Their names were changed by their captives to Belteshazzar, Meshach, Shadrach and Abednego after pagan gods signifying that we too, like it or not, are labeled by the world and placed in charge of worldly powers. It did not take long for the first onslaught from the world to begin. Almost immediately Satan tried to impose his ways on Daniel and the others by trying to make them eat unclean things that would defile them as Jews and make them unclean in their hearts before God. ("Happy is the man that is not condemned by that thing which he allows.") But Daniel boldly and wisely requested to eat only kosher food (pulse and water) and his request for a clean spiritual diet was graciously granted and so the four young men remained undefiled before God even while they remained in the service of the pagan kings of Babylon and Persia. It was symbolic of the spiritual diet that the end-times believer ought to partake of in his daily life. Just as we need a balanced diet to keep our bodies healthy, even more so do we need a balanced Christian life to keep our spirit in good health. Many Christians and Christian groups become quite unhealthy by putting all their focus on only one or a few of the wonderful facets of God's spiritual diet. He longs to have us partake of the entire banquet. If we seek and exercise the gifts of the Spirit - especially wisdom, understanding and discernment, then hopefully we will bear the fruits of the Spirit. After having partaken of the wonderful banquet table which God desires to set before us, we can go forth into the fields of harvest, made healthy by the spiritual feast that has been laid out for our enjoyment and our strength. We can then go forth to truly perform the works God has prepared for us to walk in, and not walk in our own works. (Later Jesus taught us about the law's spirit in differentiating between clean and unclean things, teaching us that what really defiles is not what goes into a person's mouth, but what comes out of the mouth that defiles. Matt. 15:11 Once again, Daniel stands as an example for end-times saints, and it is that one should remain undefiled and spotless from the world even though we live in the midst of it. The fruit of this rock solid foundation upon which Daniel was established by God was that when it was time for he and his three companions to stand before the king they were found ten times better than all the so-called spiritual wise men of Babylon. This then, is a picture of the end-times saint standing before the King of kings in the Holy throne room, waiting on the Lord, temperate and balanced by good spiritual nutrition.
The Sum of the lessons… of this first chapter of Daniel and the lessons it teaches are these. As Daniel's world was in ruins, so ours is crumbling in wickedness and unrighteousness of all kinds, but we know God is with us. Like Daniel and his friends, we also have to wait on the Lord. Though we are also captives in an unbelieving world we are blessed with understanding and knowledge that God has everything under control. Like Daniel's name signifies, we can rest assured that "God is my judge" and we need not be judged with the judgment of the world which is coming. Because of what Jesus has done for us we stand, without blemish, before the King, welcome in the hub of the universe, the Holy of Holies. If we pay heed to our diet (Man does not live by bread alone but by every word that proceeds from the mouth of God.) then we shall be healthy and "prepared unto every good work,".  As in the book of Daniel there is no male or female, only complete equality in Christ and we will be undefiled before The Father.
This is the foundation for the book of Daniel laid in chapter one, It draws a picture of the end-times saint for us of which Daniel is the 2,500 year-old prototype. As Enoch and Elijah are archetypes of the rapture, this great prophet Daniel is the prototype end-times saint. Those waiting for the King of kings can clearly identify with their brother in Christ, Daniel.

Chapter 2
The Kingdom of God only is eternal
The Antichrist Kingdom
will be returned to dust
The chapter of Daniel we undertake to study here concerns the Antichrist government, its apparent glory, its temporal nature and ultimate judgment into oblivion. We are invited to believe in the eternal rather than the temporal, urged to cast off our faith in man's government in favor a living faith for the eternal pure government of the kingdom of God which is to come. The faith which we are led to acquire is the faith on exhibit by Daniel, one of miraculous deliverance from the hands of unreasonable men and the government of this world at the hand of the providence of God. Daniel serves us as the archetype end-times believer and the kind of faith for the miraculous protection of God which would be required in the last days just before the return of Christ. The temporal nature of the Antichrist kingdoms and the faith needed for deliverance from its deceptive and unreasonable hands are the prime revelations of chapter two of the book of Daniel.
King Nebuchadnezzar was frightened by a dream from God because it showed the vanity of man's great works 'under the sun' and the futility by its fading existence, no matter how brilliant or glorious the work may seem at the time. Nebuchadnezzar had built a great empire and a majestic city with 'wonders of the world', then God showed how fleeting it all was, in the same fashion that he had shown Solomon the vanity of all of man's laborious endeavors. He was angry, depressed and agitated in spirit. I guess we can all identify with him, who wouldn't be depressed? The Bible tells us that a day is as a thousand years with the Lord, and a thousand years as one day. We can gain great wisdom from this passage of scripture if we will regard it and take it seriously. God's perspective on time is entirely different than ours. We sit on the inside of time like figurines in a glass bubble looking out; God is everywhere -inside and out – everywhere, even on the outside of time peering in, seeing all that is, and all that has been, knowing what will be because he has been there, was there, is there. Time is merely a blue-print used by the omnipotent architect, a spade in the gardener's hand, a group of files on the desktop of eternity. Time is very small compared to infinity. Infinity has no end or beginning and is ever expanding, not confined by time or space, where the Holy Ghost presides over all, where The Son is, full of love and light, which is infinitely powerful, in eternity both before and after the now, love and light are the actual, true, real, solid, definable dimensions themselves, of which someday we shall become, not only aware, but an integral part of ourselves. (See last two chapters of Revelation). Logically, every empire and government on earth, no matter how marvelous and eternal they may seem - as the Roman Empire or the United States of America - is destined to a prescribed end. There story written and filed long ago, before the dimension of time ever started to tick. No empire or government is on par with God and the infinite government of his power. They are a very small pea in the vast eternal. The only eternal is that of God and there shall never be a government of man to co-exist with God's just and true reign of righteousness because man cannot produce a righteous government to compare with the righteous ways of the Father, Son and Holy Ghost. It is a ridiculous thing to even think so for one tick of the clock or one moment in time. The chapter of Daniel now under review declares that the earthly man-governments of glory, though glorious in our eyes, are very small; the temporal nature of man's oppressive and frightened rule of man and the ultimate, total victory of the kingdom of truth to be administered by Love itself – this is in the infinite and is the one big thing in eternity that is taking place on this earth. The work of redemption of man and bringing him into the kingdom of God this is the huge thing being done on this planet. The one thing that will be carried from this earth into eternity, when even the earth, after a thousand year rule of Christ on earth, is swallowed up by time, rolled up like a Hollywood stage set, and time shall be no more.  "The kingdoms of this world are become the kingdoms of our Lord" are the words spoken by "great voices in heaven" in chapter eleven of the Book of Revelation. Heaven's outburst of joy, comes right after the seventh angel has blown his trumpet to initiate the final 'Woe', which is the great and terrible day of the Lord. ''And the seventh angel sounded; and there were great voices in heaven, saying, The kingdoms of this world are become the kingdoms of our Lord, and of his Christ; and he shall reign forever and ever.  And the four and twenty elders, which sat before God on their seats, fell upon their faces, and worshipped God. Saying, we give thanks, O Lord God Almighty, which art, and wast, and art to come; because thou hast taken to thee thy great power, and hast reigned." Rev. 11.15-17
God's seizure of earth's government at Jesus' Second Coming is one of the major events in the history of the world and mankind. Chapter two of Daniel gives the end-times saint an uncluttered, simple statement about the promise God has given his saints for the reign of His perfect government on earth and into eternity. It details the evolution of world empires and prophesies of the climactic and electrifying moment described above when the ever-growing kingdom of Christ will be established for those of mankind who have entered safely into Love's eternity.
Quick Scan of World History in a King's Dream
The King of Babylon's prophetic dream and its divine interpretation given to the prophet Daniel is intended to be an anchor for our belief so we can know that the full victory of the kingdom of God will come, but not until man's government has been given a full chance and proven to fall short of real truth and righteousness. This requires a full and complete historical evolution and process, a history which can be studied and reviewed by surveying the course of what is commonly referred to as Western Civilization. God wants to inform the end-times saint that victory over the influence of the world and its governing power will not come without personal struggles of faith and hard won spiritual battles while overcoming persecutions, exploitation and spiritual oppressions of "The Beast" (the 'Beast' being the collective spirit and power of the empires of the West until they finally evolve into the fullness of the 'Beastly' Empire of the Antichrist at the end; as revealed in the course of Daniel's history.) But even while living in the midst of the Beast, God was faithful to deliver Daniel out of all his troubles and trials so that he could minister faith and pray for the people of God.
Daniel and the Wise Men Escape Certain Death
Typical of man and his government, the king of Babylon made an incredibly unreasonable request of his advisors and ministers that included a death threat upon them if they could not solve the king's problem. Daniel was included in the number of 'wisemen' who were to undertake the impossible task and once again Daniel found himself in a predicament from which only faith in God could deliver him. The situation was utterly hopeless from a human standpoint. The all powerful Nebuchadnezzar was extremely agitated by a troublesome dream which he suspected had been given him by the 'Most High God'. Afraid that his magicians, astrologers and Magi priests would deceive him with a purely concocted interpretation of the dream he concocted an unreasonable scheme to insure the integrity of the interpreter and the validity of the interpretation. He refused to tell his dream to any of the court 'wisemen' or counselors, demanding instead that the dream be told first, and then he could be sure that the interpretation was a valid one. Naturally, no one could come up with the dream. As the wisemen of Babylon said, "It is a rare thing that the king requireth, and there is none other that can show it before the king, except the gods, whose dwelling is not with flesh." The king, being all powerful, but not always reasonable, became infuriated. Summarily, he decreed that all wisemen in the kingdom should be put to death. Panic gripped them. The only way to stay judgment would be if someone could tell him his dream and give the interpretation.
The number of the doomed included Daniel and his fellow Jewish courtiers, Meshach, Shadrach and Abednego and the rest. It was a hopeless position. There must have been a lot of wise guys booking passage on the first caravan out of town. But in hopeless situations, where there is nothing a man can do, in weakness, when all hope is gone, God can do great things to deliver us. This, it would seem, is the sort of faith God would like to grow in his servants and saints in these fading days just before Christ's appearing in the clouds. Daniel is a prototype for us, a true spiritual archetype, standing in for us to show us how to react when we have life threatening situations pressed down upon us. Often situations come down upon us without cause or rational explanation or in fairness, situations in which we are pressed, in turn, by the grace of God to ask for, and believe for, His miraculous deliverance. He will give his end-times saints understanding and knowledge about the wisdom of the ages and the boldness to tell it to those to whom they are sent. Telling the mysteries of the ages and such things as prophetic truths may even be a matter of life and death, if not for those saints themselves, for others who will be saved by the telling of it. As was the case in all the lives of the courtiers which were saved through Daniel's asking God for the dream and the interpretation, and his subsequent boldness to tell it all to the king (though its interpretation was not flattering or hopeful to the king and could have easily incurred his wrath). Daniel was forced into a great act of faith by circumstances created by the hand of Providence. The prophet, in the role of prototype end-time saint, asked for a little time, but he had to believe that his God would, and could, do the impossible. He and his friends prayed together that God would reveal the secret of the dream to him. Of course God heard the prayer of his faithful servant and answered it revealing Nebuchadnezzar's dream word for word, picture by picture, to Daniel in a "night vision". Daniel thanked God saying, "(God) changeth the times and seasons: he removeth kings: he giveth wisdom unto the wise, and knowledge to them that know understanding: he revealeth the deep and secret things: he knoweth what is in the darkness, and the light dwelleth with him"
The lesson for the end-time saint is that we, like Daniel, can be privy to the secret things of God by faith 1 Cor. 2.10, and that we should believe that no government or leader rules, including communist, atheist, fascist, or any other, unless God allows it. That God can do all things, even change the way things operate. All timing is in His control. In short, the end-time saint can bank on the truth that there is nothing that is out of God's total dominion or power. The way God chose to have Nebuchadnezzar withhold his dream, and then have Daniel come up with it and its meaning, was done to prove to us that nothing is hid from Him, including the future or intentions of man. This, when understood and believed, should create a change in the way we approach our relationship with society and politics and the faith we hold in them for bringing salvation to the world. Should it not?
The Dream of the World's Empires
The dream was given to Nebuchadnezzar because he had wondered what the future held for his kingdom and the kingdoms which were to follow on this earth. It was a simple dream beginning with the picture of a colossal and glorious statue. Daniel, by God's mercy was given precisely the same dream. The great statue had a head of gold, body of silver, legs of brass, and feet made of a mixture of iron and clay. In the dream, a stone "made without hands" descended from the heaven and crashed down on the feet of the statue breaking them to pieces causing the image to crash to the ground where it immediately dissolved to dust and was blown into oblivion by the wind. The stone which had hit the image then suddenly grew until it became a mountain and covered the entire earth. Daniel then told the king the interpretation.
"This is the dream; and we will tell the interpretation thereof before the king. Thou, O king, art a king of kings: for the God of heaven hath given thee a kingdom, power, and strength, and glory.
And wheresoever the children of men dwell, the beasts of the field and the fowls of the heaven hath he given into thine hand, and hath made thee ruler over them all. Thou [art] this head of gold.
And after thee shall arise another kingdom inferior to thee, and another third kingdom of brass, which shall bear rule over all the earth.
And the fourth kingdom shall be strong as iron: forasmuch as iron breaketh in pieces and subdueth all [things]: and as iron that breaketh all these, shall it break in pieces and bruise.
And whereas thou sawest the feet and toes, part of potters' clay, and part of iron, the kingdom shall be divided; but there shall be in it of the strength of the iron, forasmuch as thou sawest the iron mixed with miry clay.
And as the toes of the feet were part of iron, and part of clay, [so] the kingdom shall be partly strong, and partly broken.
And whereas thou sawest iron mixed with miry clay, they shall mingle themselves with the seed of men: but they shall not cleave one to another, even as iron is not mixed with clay.
And in the days of these kings shall the God of heaven set up a kingdom, which shall never be destroyed: and the kingdom shall not be left to other people, but it shall break in pieces and consume all these kingdoms, and it shall stand for ever.
Forasmuch as thou sawest that the stone was cut out of the mountain without hands, and that it brake in pieces the iron, the brass, the clay, the silver, and the gold; the great God hath made known to the king what shall come to pass hereafter." (verses 36-45)
In telling its meaning, Daniel says "the interpretation thereof is sure". History and time have proven Daniel to be 100% correct. And its fulfillment is one of the means by which our faith can be bolstered to know that God's kingdom, known as the Millennium is certainly coming.
THE KINGDOMS OF WORLD-SPIRIT

Babylon: Head of Gold
Nebuchadnezzar's Babylon, the kingdom that God used to judge Israel, was the first great world power of God's quintessential history and the one in power at the time of the prophetic dream. This kingdom was called the 'hammer of the whole earth' by God and its rule was harsh and oppressive. It had an extensive system of law, religion and economy that held political sway and military authority over the entire Mediterranean from Tyre and Jerusalem, Egypt to Carthage and Spain. Babylon desired to rule over the souls of men as well. It tried to force its subjects into idolatry and wherever the spirit of empire was to go thereafter Babylon remained an integral part by way of its influential spirit and the precedents it set for the empire. (More spiritual history on Babylon)

Persia: Arms of Silver
Persia followed on the heels of Babylon when it took over the reins of empire in 538 B.C. The transition from Babylon to the second empire came to pass during Daniel's lifetime and must have given him even greater encouragement that the prophetic dream was true. The city of Babylon was magnificent. As the capital of the empire, the city of Babylon had walls 15 miles square, 350 feet high and 87 feet thick. It had room on top of the walls for six chariots to ride side-by-side. To Daniel, or any contemporary, it must have been unthinkable that Babylon could ever be conquered. The abrupt end and judgment by Persia's conquest of "the head of gold" is told later in Daniel. The Media-Persian army entered the impregnable city of Babylon by damming up the Euphrates River which ran through the center of it and entered through an open aqueduct gate and began a two hundred year imperial rule of the West. Naturally, the Babylonians had made no provision for attacks inside their city fortress. The army went through the city unimpeded, killing the defenseless people along with Nebuchadnezzar's grandson-son King Belshazzar. Persia's most significant addition to the Empire was its government organization (as arms of silver) reaching out into every province and locale with a strict bureaucratic control over its subjects. In this essential way Persia fulfilled its prophetic role in the evolution of World-Spirit Empire. (More Persia)

Greece: Belly of Brass
It took 200 years before the next part of the prophecy would be fulfilled and it took Alexander the Great (more is told about him later in Daniel) of Greece to conquer the Persians in 332 B.C.. With 40,000 cavalry and infantry Alexander made one of the most improbable advances in history conquering the hundreds of thousands strong Persian forces and extending the Greek world into India and Egypt and fulfilling in dramatic form the prophecy of Daniel concerning the Greeks. The Babylonians had brought idolatry into the soul of the empire, the Persians had brought strict bureaucratic controls, and Greece now brought the spirit of humanism and leadership by a single Antichrist figure, Alexander the Great.
Alexander's vision was of one-world, a so-called 'brotherhood of man', a spiritual revival of the Tower of Babel, where men had gathered together to oppose God and forge their own destiny apart from their Creator. It could be said that Babylon had given the kingdoms of this world soul, Persia had given them body, and now Greece had given them the spirit of antichrist. Its leader was certainly the forerunner of the Antichrist who looms ominously on the horizon as we enter the 21st Century. (More Greece)

Rome: Legs of Iron
Rome is the fourth, and most celebrated, of those kingdoms of the West designated by God as the conglomeration of kingdoms which would form the construction of the World-Spirit, called Beast. Together, formed by Rome's induction, into one Empire they stand in direct opposition to the coming 'stone', that Rock of God. Daniel was shown this Empire as representing the Empire's evolution into a mighty and powerfully dominant force on earth.  Starting in 168 B.C. Rome gradually engulfed the world and by the time of Christ held and iron grip over the nations of the West, having turned the Mediterranean Sea into a 'Roman Pond'.
Rome is important the same way an answer to a mathematical problem or equation is all important: it is the summation of the spirit and soul of all the preceding kingdoms and holds its aspirations and life's blood within its own makeup. It represents Satan's hopes and will and actually embodies the efforts and tactics of Satan's army of spirits and their principalities and dominions presiding over the nations of mankind. Rome incorporated the antichrist characteristics of Babylon, Persia, and Greece and honed them to a razor sharp precision with iron clad power. Rome is the symbol of the legs of the Empire because it was used to 'walk' the spirit of empire into every hemisphere and onto every continent of this earth where they embedded them into the political life of all nations with a Western heritage. The fact prophesied by Daniel, that Rome's feet are of clay, partly strong and partly weak, and always weakened by division, history has proven. Whenever the empire has grown too big so that it might try to unite the entire world before God's timing, it has fallen prey to infighting or been beleaguered from outside forces, as with the Muslims and Turks. (More Rome)
Prophecy affords us the advantage of the 20/20 vision of hindsight. It allows us to see clearly into the truth without doubt or reservation, without the obstruction of man's confusion and limited, myopic vision. Even a scant look at history lets us see clearly how incredible and accurate the king's dream was and how perfect Daniel's interpretation. The historical reality of these kingdoms, that they were seen by the king of Babylon in a dream 2,500 years ago, interpreted and recorded by a man of God, are intended to give the end-times saints faith that no matter what things look like, God knows all. His kingdom will win out, just as He has promised. We should have courage to put our faith on the winning side and forsake hope or faith in the affairs of the governments of this world no matter how enticing the temptation to rely on man's righteous sounding government may be.
And The Kingdom Shall Not Be Left To Other People
"… and the kingdom shall not be left to other people" are just a few words from chapter two that easily can be overlooked. Sandwiched in the middle of a single verse they are nevertheless words with great implications for the end-times believer. Though their meaning might seem obvious at first, they are wonderful reassurance for the end-time saints, as well as a tip-off. And God knows, we need to be reassured and educated from heaven in these last days.
Kingdom Not Left Behind
It is said, you can't take it with you, but in Christ, you not only can take it with you, if you are wise you will be doing everything you can to store up treasures in heaven. Of  all people the Christian is most blessed, but only if that Christian hopes and dwells in the spirit in heavenly places pinning their hopes on the life to come and not in this transient world in which we are only pilgrims and sojourners. As the apostle Paul puts it, "If in this life only we have hope in Christ, we are of all men most miserable". We who know Christ know this instinctively. But many of us can miss this blessed way of life if we don't acquire faith in it and one of the primary ways to acquire faith for it is by the Word of God, the prophetic Word to be specific. People in the world, even great men such as the genius Nebuchadnezzar who ruled the world, work their whole lives building and creating kingdoms of their own and in the end they must leave it behind for they can carry nothing with them. We the pilgrims, who are called to work and labor for Christ, can work in a kingdom which we shall not have to leave to other people. We can work for eternal treasure. The preaching, teaching, good works, distribution of God's love, etc. in any way, is work that is going toward lasting and eternal things. That is what Jesus meant when he said, "Store up treasure in heaven where moth and rust doth not corrupt."
Daniel saw in the dream a stone (Jesus) come down from heaven and strike the image in its feet (Rome) and the image was shattered into dust and blew away. Daniel saw the stone turn into a giant mountain which filled the whole earth. The interpretation was this: "And in the days of these kings shall the God of heaven set up a kingdom, which shall never be destroyed: and the kingdom shall not be left to other people, but it shall break in pieces and consume all these kingdoms, and it shall stand for ever."
As we labor in the kingdom of God we should know that we are working for the winner and for eternal things. We are working for things that will last. The prophecy in chapter two of Daniel tells us that we can take it with us because we shall not leave the kingdom to other people, but we must have our hopes in the world to come and not in the deceptive world of men's politics and their vain promises of justice and utopia.

C

hapter

3


End-Times Servants Must Go -



Through the Fire
"In the last days perilous times shall come ..." That's what the Scriptures tell us. Daniel chapter three and the story of the three Jewish men who refused to commit idolatry is an enduring witness to encourage all end-times saints. The above New Testament scripture goes on to say..." for men shall be lovers of their own selves, covetous, boaster, proud, blasphemers, disobedient to parents, unthankful, unholy ..." 2 Tim. 3:2 There are rewards promised for those who stand firm in the pure Gospel of Jesus Christ and do not deny His name. In the letter to believers in Philadelphia, Christ promises this: "I know thy works: behold, I have set before thee an open door, and no man can shut it: for thou hast a little strength, and hast kept my word, and hast not denied my name." (Rev. 3:8) The day is coming when these dark times will pass and the day star shall appear and we who have suffered for the Gospel will be completely vindicated. Daniel's story of Meshach, Shadrach and Abednego is about the kind of faith required of today's "Philadelphians". Those of the Philly faith will stand firm.
The world of politics and religion does not see it this way. To the Babylonian people, King Nebuchadnezzar's decree that all men should worship the huge golden image which he had set up in the plains just outside the magnificent capital city did not seem to be an unreasonable demand. A veritable grab-bag of gods was available as objects of worship for all subjects of the kingdom. There were gods of the sun and moon, gods of the birds and animals, gods for fertility and - well, gods for just about anything a man could think of, and then some. Worshipping an image that the king had designed should not be anything out of the ordinary or very difficult. The thing most uncommon about the whole affair was not even the image's size and presence, but the general decree that anyone who did not fall down and worship it upon command would be summarily executed.

Experience of these three men
parallel the End-Times experience
In his wisdom Nebuchadnezzar started by singling out the leaders and governors of the empire and making them worship the image first. If the leaders bowed down to it then the king could be sure they would make their underlings do likewise. The king, the Bible says, had called the "princes, governors, captains, judges, treasurers, counselors, sheriffs and all the rulers of the provinces, to come to the dedication of the image" which he had set up. The government must show approval and support of all religious and political measures taken in any antichrist formation. In the end-times Satan's strategy and the plan of the Antichrist is exactly the same. Convert the leaders and the people will be forced to follow. As Jesus said, "Beware of the leaven of the Pharisees." Matt. 6:16/ Mark 8:15/ Luke 12:1 In other words, do not follow blindly the example and teachings of your leaders. Make sure they are not corrupting your faith and leading you into idolatry, sin, or a false notion of who and what brings true salvation. For example, the image of gold set up in the vast plains, made accessible to all, was more than likely a facsimile all in gold (as the head which represented Babylon was gold) of the statue that Nebuchadnezzar had seen previously in his Providential dream. One thing is certain. Daniel's revelatory knowledge and interpretation was a sign for Nebuchadnezzar to begin worshipping God without reservation. It was impossible for him to miss the fact that Daniel's God was the all-mighty God. He had openly admitted this when he noted, your God is a "God of gods and a Lord of kings". Yet he missed the point entirely because he worshipped Daniel instead of God. It says in chapter 2:46, "Then the king Nebuchadnezzar fell upon his face, and worshipped Daniel, and commanded that they should offer an oblation and sweet odours unto him." As if testifying to the belligerence and stubbornness of the antichrist spirit, Nebuchadnezzar became more adamant about idol worship than ever before. God had told him in a dream that his and subsequent empires were transient and sure to be destroyed in the end by the kingdom of the true God, but he persisted anyway. The idol was only an extension of self and all his accomplishments. His idolatry was, like all idolatries, centered around and about, self. He even extended his idolatry to further crimes when he determined to murder anyone who refused to concede to his demand, and again further compounded the insult by setting the whole national idolatry in motion to the tune of music, for it was by the music of royal orchestras that persons throughout all the provinces of the empire were to prostrate themselves and worship toward the golden image. This all portends the Antichrist necessity for worship of the world. Worship or die, as with the Mark of the Beast and Image of the Beast.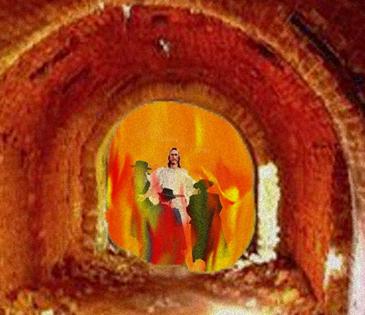 Who Gets Burned Anyway?
Satan moved Nebuchadnezzar to decree that those who did not worship the image of gold would be burned to death. But Christians know the opposite is in fact true. If you are an idolater you will suffer the second death which is to be thrown into the lake of fire where there is only eternal suffering and flames (Rev. 21:8). But if you are true to Jesus' name you will not burn or die, you will drink freely from the waters of eternal life.  Satan's intent here was to drive home a spiritual lesson for an entire people. Commit idolatry and live. Refuse idolatry and die. God's Word to the end-times saint is still the same as it was back in Babylon 2,500 years ago. Worship God and Him only and you will live forever.

Don't Expect that Satan will be Fair
There is nothing fair or honest about Satan. He is a bully, a liar, a deceiver, and a betrayer. He betrayed his Maker and his God. He will betray all creation. The three men he had condemned to such a terrible death were men who had been honored and promoted in the kingdom by Nebuchadnezzar. The king had given them power, riches and authority because he knew they were connected to the God of Daniel, the same God who had shown him the meaning of the troubling dream of world history (Ch. 2 of this study). Satan will try to jerk end-times saints around whenever possible. He will try to shower honors and flatteries on us and then make us look like fools or strip us of our dignity. End-times saints will not be treated fairly, just as these three men were rudely treated. Respect and accolades once bestowed, will be quickly forgotten as soon as we are forced to challenge the Devil's blasphemous lies. But, just as the three Jews prevailed, end time saints will also prevail by holding onto and not denying the name of Jesus.

We should not be tricked
We should not be tricked into thinking that what or who we worship is just a matter of preference. God has declared He is a jealous God. Our worship is fundamentally important. Why else would God have made it one of the Ten Commandments, that we worship only Him? Why else would Satan have made such a big deal out of it by trying to get everybody to forsake God and worship an image? Satan wants to rip-off God by getting us to worship the creation rather than the Creator. Rom. 1 & 2 Only Jesus Christ is due our worship and no other; not Mary, not saints, not Mohammed, not Confucius, not our ancestors and not the works of our own hands. We should not allow ourselves to worship a Jesus of our own making, a pitfall of Christian theology and religiosity. We may form our own ideas about God, mold him into something we desire him to be and not the God he actually is. When this is done, even by the most pious of religions or reasonable evangelical doctrines it amounts to an idolatry of ignorance, but idolatry none the less. We must guard ourselves and worship God for who and what He is – The great I Am, that I Am. For God is who he is regardless of who or what we would like to think he is. God cannot deny himself. He is the same yesterday, today and forever. There is more to what is meant when the Book of 1 John closes, "Little children keep yourselves from idols" than not worshipping figurines or statues. Don't worship or ascribe powers of God to anything, regardless of what you call it, even if you call it Jesus or things of Christ, unless you want to suffer the judgment of idolaters. Serve only the true God. This is why it is imperative that we know Him, to know who He really is. We must worship the True Triune God -only.
Whether We Live or Die: We are the Lord's
For their determination to keep themselves from idols the three heroes were condemned. They told the king that they would not try to fast talk their way out of it. To quote exactly, they said, "we are not careful to answer thee on this matter." They went on, "If it be so, our God whom we serve is able to deliver us from the burning fiery furnace, and he will deliver us out of thine hand O king. But if not, be it known unto thee, O king, that we will not serve thy gods, nor worship the golden image which thou hast set up." End-times saints will know in their hour of testing that whether they live or die they are the Lord's and that their worship is due Him only. (Romans 14:7-9)
Symbolically They Were Fully Clothed
The three men were finally dragged away and bound in their cloths to be thrown into the furnace. The three were "bound in their coats, their hosen, and their hats and their other garments and were cast into the midst of the burning fiery furnace." They did not suffer the humiliation of being naked. They were taken, fully bound in their garments. An odd thing to do to men you are about to roast. But the spiritual symbolism is apparent. We are given a picture book lesson to be aware of our spiritual garments. What have you clothed your spiritual countenance in, brothers and sisters? These men were clothed from head to foot. They had a hat (of salvation); hosen (to cover their legs and feet for the preparation of the gospel of peace); coats (of praise) and other garments (fine white linen which is the righteousness of the saints and the rest of the armor of God).
Anyone connected to the people of faith, who are without faith and not wearing the right garments, will perish in the fire just as those unfortunate men were incinerated who had thrown Meshach, Shadrach and Abednego in to the fire. End-time saints will be man handled by men who seem mighty, but because they don't have the right covering they will be the ones burned instead of the saint. Remember what actually happened, those who threw them into the fire were themselves burned instead of the saints. Saints may even have apparent friends around them who, because they do not have faith and protection, will desert them when they feel the heat. Don't despair though. If these people are not clothed properly, bound in the garments of Christ as the three Jews, they might perish if they stuck around. Through the faith and trial of these three men God was greatly glorified. They had been accused, ridiculed, condemned, betrayed and cast into a burning fire. But because of that Nebuchadnezzar saw Jesus. That's right. "Then Nebuchadnezzar came near to the mouth of the burning fiery furnace, and spake, and said, Shadrach, Meshach, and Abednego, you servants of the most high God, come forth, and come hither. Then Shadrach, Meshach, and Abednego, came forth of the midst of the fire." Dan. 3:26 Nebuchadnezzar approached but did not die because he was looking upon Jesus, the Son of God. Even though he saw Jesus, however, that does not mean he wised-up and decided to worship and reverence the Lord, The Most High, God only. We shall see in the next chapter the ongoing stubbornness of powerful men and the devastating judgment that fell on Nebuchadnezzar.
Because these saints had yielded their bodies for God's use, as Romans 12 suggests as "our reasonable service", God was glorified and a whole empire saw God's love and power in action through a mysterious Savior. "Then Nebuchadnezzar spake, and said, Blessed be the God of Shadrach, Meshach, and Abednego, who hath sent his angel, and delivered his servants that trusted in him, and have changed the king's word, and yielded their bodies, that they might not serve nor worship any god, except their own God." Dan. 3:28 Their refusal to bow down in idolatry, their loyalty to God only, had changed the word of the king of this world and made it of no effect. If we will maintain our faith, the word of the world and that antichrist will have no power over us in the end.  In the end the three heroes of faith were vindicated. Their insistence that worshipping God could not be compromised became evident for all to see. For the end-times saint this is the equivalent of the promise made to the Philadelphia Church in Revelation: "Behold, I will make them of the synagogue of Satan, which say they are Jews, and are not, but do lie; behold, I will make them to come and worship before thy feet, and to know that I have loved thee." Rev. 3:9 Remember how the Book of I John ends: "Little children keep yourselves from idols." Keep your faith pure and your worship of god exclusive. You will be vindicated in the end. It is a promise.
C

hapter

4


Who's got the Power?


Repent or else fall headlong

Into terrible Tribulation
The Most High.
The Most High.
The Most High.
The Most High.
Four times in the fourth chapter of Daniel God is referred to as "The Most High". The occurrences which follow are power-packed, jammed with lessons about the importance of repentance, the coming Tribulation and God's mercy. The theme of the entire chapter turns on the singular title of God, "The Most High". Like a bit of dressing sandwiched in between the bread and meat of God's Word, the phrase "the most High" can go unnoticed til it is detected by its forceful flavoring. Yet, far from being a touch of sauce dabbed onto the meat of God's Word, the title "the most High" and the implications it carries for end-times saints, along with instruction about the judgment of the Tribulation and the restoration of the Millennium is, in fact, the main course. Principle among the assertions of this study of Daniel is that Daniel is God's end-times secret weapon and that the life and times of Daniel offers us real-life lessons of faith for the last days. As God's secret end-times weapon its stories and revelations are meant to build faith and keep the saint from sliding into the deception of humanism which Satan is weaving in these final hours before Christ's return. However, God does not want His people in these last days to think that things are spinning madly out of control. His prophetic word has told us how, on one hand, evil and bad things will get. On the other hand, He wants us to know that all of it is in His plan and that His arm to save has not been shortened. The story of the rise and fall and - ultimate restoration of Nebuchadnezzar - parallels the dual nature of the end-times. It is a call to repentance, a warning of Tribulation and eternal judgment for those who do not heed the call, and the restoration of things under Christ's reign during the Millennium. We can see that Nebuchadnezzar's experience 2,500 years ago was a prelude for the reassuring message that "the most High" rules over all things and that the return of the Lord will come as suddenly as "a thief in the night".
What follows is the mega confrontation between "the most High" of the universe and "the most high" of the world. Obviously, there cannot be two Most Highs. By definition there can only be one who is highest of all. That one, of course, is God. Hosanna in the highest. He is high and lifted up, the Scripture says. Four times in this chapter Daniel says God is "the most High".  And so, all Christians should concede this as fact, though in a desire to be politically correct they do not always hold to this fact these days. Nevertheless - He is. Through a prophetic dream given to Nebuchadnezzar God pits himself against the mighty king of Babylon to prove that He is the one who truly deserves to be called "your Highness". The dream's stated purpose is this: "This matter is by the decree of the watchers, and the demand by the word of the holy ones: to the intent that the living may know that the most High ruleth in the kingdom of men, and giveth it to whomsoever he will, and setteth up over it the basest of men. " (Daniel 4:17) God is simply stating here the irreversible doctrine that he is in sole position of the power to approve and or abolish all political, military, social or governmental authority on earth. Bar none. Nebuchadnezzar, the all powerful king of Babylon, vanquisher of Pharaoh and Egypt, conqueror of Tyre, destroyer of Jerusalem, and ruler of the world; the leader of the empire which God dubbed, "the hammer of the whole earth", was singled out by God for this purpose, to show who "ruleth in the kingdom of men". Of all people in the world, Nebuchadnezzar was the least likely man to be brought low by anyone or anything. That's exactly why God picked him out. God singled out the strongest, most powerful man on earth to prove that no military or political strongman can resist or undo His will. By personally prophesying the fall of the greatest man alive, a man untouchable because of his position and stature, and then bringing the prophecy to pass, God established that there is only one "most High" who reigns, not only over kingdoms, empires and governments, but also over the thoughts and minds of men both great and small. This should give Christians in America pause to think about the nature of their faith concerning politics and government, whether democratic or otherwise.

Nebuchadnezzar Completed the Tower of Babel
As men go, Nebuchadnezzar was a great, great man. In all of history this outstanding leader ranks as one of the most, if not the most powerful man who ever ruled. His power and authority were absolute. All he had to do was speak and his word was law. His cunning and wisdom are legendary. It was his personal vision that oversaw the creation of one of the Seven Wonders of the World, the hanging gardens of Babylon. He was a master general, a prudent king, and a wise leader. His dream to master the world came true, but God challenged that dream by giving the king a literal dream that let him know who the master of the world really is.
The dream acknowledged Nebuchadnezzar's greatness. In the dream he saw a great spreading tree that filled the whole earth providing all the creatures and inhabitants of the earth with what they needed. "I saw, and behold a tree In the midst of the earth and the height thereof was great. The tree grew and was strong, and the height thereof reached into heaven, and the sight thereof to the end of all the earth: The leaves thereof were fair and the fruit thereof much, and in it was meat for all the beasts of the field had shadow under it, and the fowls of the heaven dwelt in the boughs thereof, and all flesh was fed of it." Vs 10-12
The great king Nimrod, Genesis 10 the father of Mystery Babylon, founder of Babel and architect of the Tower of Babel, was Nebuchadnezzar's spiritual forefather. Herodotus, the Greek traveler and so-called father of history, reported that he saw the Tower of Babel which stood near the center of Babylon along the Euphrates River. Herodotus reported that Nebuchadnezzar had not only restored it but had completed the Tower's seventh level, the level unfinished by Nimrod. Along with the hanging Gardens, the Tower of Babel was the city's center-piece. It was the focal point of Babylonian religion and worship and the symbol of Nebuchadnezzar's pride and power. The fact that Nebuchadnezzar had finished what Nimrod was not allowed to complete is indicative of his antichrist spirit because the dream reveals that king Nebuchadnezzar had accomplished the intent of the Tower of Babel in real terms through the extent and political power of his Babylonian Empire. As the early men of Babel had said, "Let us build a city and a tower, whose top may reach unto heaven", the height of Nebuchadnezzar's tree (kingdom) in the dream did actually "reach unto heaven", the very aspiration of Nimrod that so exasperated God about the building of the infamous ziggurat. The glory and majesty of Nebuchadnezzar's construct went Nimrod one better because it also encompassed the whole earth, and gave its subjects and peoples "sight thereof to the end of all the earth".
Nebuchadnezzar's Hanging Gardens of Babylon was one of the seven wonders of the ancient world in the background loomed the Tower of Babel, completed by the defiant king, reaching above the clouds into the heavens. The kingdom of Babylon provided sanctuary, sustenance, and oneness for all the inhabitants of the earth. As Nebuchadnezzar had completed the Tower of Babel, so he masterminded a kingdom to fulfill Nimrod's original vision and hope. But just as God had scattered the people at the Tower of Babel and confounded Nimrod's plans to build a kingdom to rival anything God could put together, so God confounded Nebuchadnezzar and his blasphemous pride. (Remember Nebuchadnezzar had been reproached and seen the hand of the most High twice in previous incidents, but had refused to get the point and repent.) Nebuchadnezzar, having seen in the dream that the mighty tree which fed the earth and provided a haven for its inhabitants was chopped down to nothing but a stump, was greatly disturbed and, as he had done once before, called on the faithful wise man Daniel to interpret the meaning of the dream. Daniel, wishing the news were better, but unafraid to tell the king the truth, told Nebuchadnezzar that it was prophetic concerning impending judgment that was scheduled to come on the king himself.
Daniel told him, "This is the interpretation, O king, and the decree of the most High, which is come upon my lord the king." Daniel told the king that God would turn him into a beast and take all understanding away from him. But after seven years of living like an animal God would restore his kingdom and "add excellence to him".  Daniel told him God would make him a mad beast, devoid of reason, for those seven years and then return him to his former self and give him blessing, all to show that God is, "the most High" who rules over all things.
Pride goes before a fall
Though a year passed and it must have seemed to Nebuchadnezzar that the dream would never come true, it suddenly came to pass in a moment of time, when his pride and arrogance had hit its pinnacle. Like a crashing hard drive, the dream's prophecy suddenly descended on the king. None of his physicians, magicians, healers, aids, wise men or priests could stop the malady or deliver him from the catastrophic effects. In just a twinkling of an eye, and no more, Nebuchadnezzar's ability was taken away from him and he was transformed into a madman. He had been warned, but had not repented. Now he would have to go through his seven year ordeal. As the conceited and arrogant king glorified himself proclaiming what a wonderful kingdom he had built for his own majesty, the sword of God's judgment struck. Before the king could even finish getting the words, "for the honor of my majesty" out of his mouth God said to him, "O king Nebuchadnezzar, to thee it is spoken, The kingdom is departed from thee". The seven years which Nebuchadnezzar lived as a beast, because of the "decree of the watchers", and to the "intent that the living may know that the most High ruleth in the kingdom of men", should be viewed as a microcosm of the seven year Tribulation which is outlined in Revelation. This judgment on the king of Babylon is a Biblical precursor to the Tribulation. Like Nebuchadnezzar, people will turn into beasts during the Tribulation. When someone takes the Mark of the Beast, it is safe to say, that their heart will be changed from a man's to a beast's. The Bible says there is no chance of salvation once a person takes the Mark of the Beast. The only difference between what happened to Nebuchadnezzar and those who take the Mark will be, unlike Nebuchadnezzar, those who take it will not have a chance to repent. They will be doomed forever to the fires of Hell.
The rapture will catch the world, and many parts of the Church which have foolishly gone unprepared, off guard and send them reeling into the Tribulation just as Nebuchadnezzar's personal tribulation hit and cast him into extreme Tribulation. The people's chances for mercy, their chance to "escape all these things that shall come to pass", as Jesus promised Lk. 21:36 will have been lost. In a moment, in mid sentence, as happened to Nebuchadnezzar, when people least expect it, "at an hour when you think not" Lk. 12:40; while they are still "eating and drinking, marrying and giving in marriage" Matt. 24:38; when the "trumpet shall sound" 1 Cor.15:52 "the Lord will come as a thief in the night" 2 Pet. 3:10 to carry away those who have "prayed that they may be accounted worthy to escape all these things that shall come to pass". Lk. 12:36 Stringing these scriptures together may seem a complicated matter, but it shows that The Rapture should be considered as a special blessing and a judgment upon the House of God and never something to be taken for granted by any believer. Most of the world will be as the king who thought so highly of himself and made the world his god. He was "the most High" of his life. Nebuchadnezzar stands as a symbol of man. We have all put ourselves above "the most High". No matter how small our kingdom, at least it's ours. Christians, even believers can do this, and if they do shall they be Raptured? We have anointed ourselves "the most High" of the kingdom of our heart. If people who are alive during the end-times do not abdicate their throne and give up the kingdom of their heart to Christ they will suffer going through the seven year Tribulation just as the judgment of Nebuchadnezzar foreshadows.

God Highly Favors Those Who Repent
"And at the end of the days I Nebuchadnezzar lifted lip mine eyes unto heaven, and mine understanding returned unto me, and I blessed the most High, and I praised and honored him that liveth forever, whose dominion is an everlasting dominion and his kingdom is from generation to generation." Daniel 4:34 Finally, after previous judgments on other people, Nebuchadnezzar received judgment because it had fallen on him. How many of us are like this antichrist archetype and figure? We do not receive the testimony of god or his people, but when it touches us our attention is gotten and we are finally moved. The Book of Revelation tells of the triumphant moment at the end of the Tribulation when God's angel declares from heaven that: "The kingdoms of this world are become the kingdoms of our Lord, and of His Christ; and He shall reign forever and ever". Nebuchadnezzar saw this first in his heart, where we must all come to see it. Then he could receive the majesty of God and admit He has the power, only He, that he is the most High. Before he died, Nebuchadnezzar, the builder of Babylon; the same man who finished and restored the tower of Babel which was started by Nimrod; the king who had raised the image of gold in the plains of Dura, had thrown in a fit of insane apoplectic, violence, the three Jewish men into a fiery furnace for not worshipping the image, and had erected ziggurats to worship the Babylonian gods; came to make the confession of an enlightened, repentant man toward the one, true God. He had been a broken man. He had acknowledged the supreme sovereignty of God. Chapter four ends with this remarkable personal testimony from Nebuchadnezzar. "Now I Nebuchadnezzar praise and extol and honor the King of heaven, all whose works are truth, and his ways judgment: and those that walk in pride he is able to abase." Daniel 4.37 Nebuchadnezzar had seen this Bible truth: "That at the name of Jesus every knee should bow, of things in heaven, and things in earth, and things under the earth; And that every tongue shall confess that Jesus Christ is Lord, to the glory of God the Father." The story of king Nebuchadnezzar's personal rise, fall and subsequent restoration, is a living testimony to the true moral and spiritual teaching of the book of Ecclesiastes which teaches; "Let us hear the conclusion of the whole matter (life's meaning): fear God, and keep His commandments: for this is the whole duty of man." Nebuchadnezzar's story is the sequel to Job. Man repents. All things are restored with "excellence added". Nebuchadnezzar's testimony is the forerunner to countless testimonies of end-times saints who were once enslaved by pride, came through repentance and acceptance of Jesus Christ and by crucifying the lusts of the flesh and pride of life, to be saved from destruction. Nebuchadnezzar represents that prideful soul, lost in delusion and worldly abundance, one who missed opportunities to repent and ended up having to go through hardships unimaginable and through great tribulation. This can happen to any Christian if they fall back to an unrepentant way. Those who do shall not be spared Tribulation. But we are persuaded better things of you, and say with Paul;
 "Henceforth is laid lip for me a crown of righteousness, which the Lord, the righteous judge, shall give me at that day: and not to me only, but unto all them also that love his appearing."
 Let us further read and study Daniel, dear saints, with an eye fixed on the end and on Christ's glorious appearing in the clouds on that day which fast approaches.
END CHAPTER 4 – Return Daniel Intro w/Navigation menu

Chapter 5
A wrong kind of security
The Handwriting
On The Wall
One of the oldest proverbs known to man is: 'The handwriting is on the wall'. It generally means that once something is in motion, once it is determined, it cannot be reversed and that it will take place. That is the lesson of Belshazzar, the unfortunate ignoramus king who pushed God to the limits of His patience and suffered a dreadful judgment because of his incredulous stubbornness and pride. Just as King Nebuchadnezzar may have been the most powerful man ever to walk the face of the earth likewise his grandson, Belshazzar, may have been the most secure ruler ever to have sat upon a king's throne. Security can sometimes be our undoing, however, especially when it causes us to ignore God. King Nebuchadnezzar's heir enjoyed a security so complete, so solid and untouchable, that it has never been equaled by another living soul, before or since. No army could touch his kingdom, no man could usurp his authority, and no decree of his could be overridden. But, because of his secure position and omnipotent power, Belshazzar thought his future was insured, thought he could do anything he wished. This belief, this impudence is a recipe for judgment.
Thought He Was Totally Secure
Belshazzar was the original "boy in the glass bubble". He wasn't just born with a silver spoon in his mouth; he was born with a full set of gold cutlery jammed into both cheeks. His grandfather and father had left him everything he could possibly use or desire. Nothing could touch him. Of all men on the face of the earth Belshazzar, the inheritor of the throne of Babylon, had reason to feel self confident and above reproach. The city of Babylon, over which he was the absolute dictator, was much more than a city. It was even much more than the mightiest of mighty fortresses. It was not surrounded by a mote or razor-wire fences; no, his city could not be entered by negotiating obstacles as flimsy or as passable as those. His city was absolutely impregnable. Measuring 15 miles square it was encompassed by walls which were an incredible 60 feet thick and 300 feet high. Chariots could ride six abreast on the highway built atop the city walls. Inside the 225 square miles were vast gardens, farms, and countless herds of live stock. Flowing through the middle of the city was the Garden of Eden's Euphrates River, irrigating her crops and giving the Babylonian population an abundance of water that provided fisheries, recreation and modern style sanitation. Babylon was entirely self sufficient. To the world she stood as a paragon of self confidence. Smack in the middle of the Fertile Crescent, Belshazzar's Babylon was an island secure as paradise itself. Or so Belshazzar believed.
From her walls, the king and his elite nobility laughed scornfully out at the powerful, but frustrated Median-Persian army (an alliance of warring tribes from the Iranian plateau), which in its quest for world domination had, for a number of years, encompassed the city hoping to find a way to destroy her and break her hold on the earth. Their only hope of world dominion, they perceived, was to bring Babylon down, even though it seemed an utter impossibility. This is the state of Belshazzar's kingdom and the condition of his heart up until the fateful night when he callously threw a particularly unholy orgy that cost him his eternal soul. Suddenly a mystical, supernatural finger appeared over the party and wrote some indecipherable words on the plaster of his palace walls. Instantly, all of the king's self-confidence and arrogance vanished into thin air with one solemn act of God. The curious words so distressed the king that he nearly fainted and his knees knocked together violently with fear. "Then the king's countenance was changed, and his thoughts troubled him, so that the joints of his loins were loosed, and his knees smote one against another." Dan. 5:6 Even if this fool had every cause to be self-confident and arrogant, Belshazzar had turned his back on the one and only person or thing that could destroy him - God. The Bible says, "It is a fearful thing to fall into the hands of the living God". Heb. 10:31 Belshazzar did not have an inkling of the coming judgment. The thought never entered his mind that his kingdom could come crumbling down in one night, but he was about to find out that the idea of total security in this transient life is a fleeting illusion, especially when we live a life of relentless mocking and striving against God. We can have this spirit even without mocking God when we are confident in our savings account, our job, or any other form of temporal security. The parable Jesus told about the man who had his barns full and thought he was all set provides an example. If we do not have peace with God, but only peace in this world it will serve us no good on the day that God requires our soul. Besides we should know that unassailable peace in this life is, at best, a temporary illusion.
Just as it was too late for the man with his barns full, now it was too late for Belshazzar. Panic-stricken, he called all the wisemen of his court in to interpret the writing on the wall but no one was able to shed any light on the subject. His panic only increased because of the baffled state of his 'wisemen' and seers. These were the same type men, by the way, that could not tell his grandfather the dream, but only Daniel. Belshazzar had learned nothing from history. "Then was the king Belshazzar greatly troubled, and his countenance was changed in him, and his lords were astonished." V.9 All of the princes and lords were astonished because they had never before seen their demigod, their model of confidence and serene power turned into a whimpering, fearful weakling. The Spirit of God had descended on him and melted him like a stick of butter left too long in a micro wave oven. If we have invested our hope in money and security of goods and safe living here, what shall we do but melt right along with our worldly things once the oven gets too hot?
Toasted the gods of this world, is what he did
This stubborn man had committed the final act of insolence. God could no longer stand his mocking and scoffing. Belshazzar had taken the Holy vessels and cups of gold and silver, which his grandfather had confiscated from the Temple in Jerusalem and used them to serve drink to his drunken party quests. He used them to toast (worship) the god's of this world. ''And the king and his princes, his wives, and his concubines, drank in them. They drank wine, and praised the gods of gold, and of silver, of brass, of iron, of wood, and of stone." Dan. 5:3-4 In the spirit of the antichrist this man of prestige and power, along with his family, harem, and friends, had taken the holy things of the Most High and used them to honor the gods of this world. You will recall that God had already identified (by the dream of Nebuchadnezzar), that gold (Babylon), silver (Persia), brass (Greece), and iron (Rome) were a representative makeup of things of this passing world. Belshazzar worshipped the world and the things in it from gold to iron, wood and stone. Belshazzar's story stands as a tombstone of rebuke for all those who think they can get away with handling the sacred things of God with a casual, obnoxious air. Whether it be in a mocking or scoffing way, or whether it is by manipulating the hearts of the sheep, by mishandling God's holy Word, His sacred gifts of the Spirit, or misuse of prayer, praise, or some kind of other sacrilege, they will not go unnoticed by God for there will be a day of reckoning. The third commandment warned: "Thou shalt not take the Lord's name in vain". We should not use his name or anything of his in a flippant or empty way. As the end times speed toward the return of Christ there will be a massive increase of demonic activity that will instigate men and women to abuse the things of God for purposes of false worship or in wasteful empty fashion. God's Word is already being manipulated, but it will get worse. If we use it vainly we are denigrating it, cheapening it. The Holy Spirit is being irreverently used for self-intoxication, to pump up egos of pastors and shepherds in the Christian Church, by those seeking only personal power or for what the Bible calls, filthy lucre's (dirty money) sake. As the Scriptures have warned, faith is being perverted by those who misuse it by "supposing that gain is godliness". Belshazzar and his cohorts stand as prime mock-ups of just such arrogance of spirit.

There is a limit even to God's patience
In the case of Belshazzar we can see that God will not suffer those who mock, blaspheme and strive with Him forever. If God is to be a righteous judge, there must be a day of accounting for everyone. It can, and often does, come suddenly, as it did to Belshazzar. The supernatural finger that had suddenly appeared out of nowhere wrote words on a wall "over against the candlestick". It is interesting that God so chose to note that the handwriting was "over against the candlestick". The candlestick should jog the memory of the end-times saint because a candlestick was used in Revelation to symbolize Christ's letters to the seven churches in Revelation 2:3. Christ says that he walks among the seven candlesticks which are the seven churches; seven being the number of fullness and completeness, as in seven days of the week and seven spirits of God. The symbolism here is that this handwriting is to be seen in the light of the church. The message of the Gospel is visible under the light of Christ. It is for the believers to know and take to heart. It is both a warning to the church and a message of warning meant to be used by the church to warn the world of unbelievers.
The king, this ignorant, stubborn man could not understand the meaning of the words. So, as his grandfather had done twice before in similar predicaments, Belshazzar summoned Daniel before him to interpret the mysterious Words of God. ''Forasmuch as an excellent spirit, and knowledge, and understanding, interpreting of dreams, and showing of hard sentences, and dissolving of doubts, were found in the same Daniel, whom the king named Belteshazzar; now let Daniel be called, and he will show the interpretation" Dan. 5:12 Belshazzar could have known about Daniel, should have known about Daniel, and about the prophet's wisdom and his connection with the "Most High", the Holy God. His grandfather had made decrees and bestowed honors on Daniel and it must surely have been known by Belshazzar. Nebuchadnezzar had made national proclamations about the God of Daniel who was God above all gods. But Belshazzar obviously was not interested. Verses 22-23 says, "And thou his son [Nebuchadnezzar's] O Belshazzar, hast not humbled thine heart, though thou knewest all this. But hast lifted up thyself against the Lord of heaven." The words Paul preached in Romans could well have been told to Belshazzar; "The word is nigh thee, even in thy mouth, and in thy heart: that is, the word of faith, which we preach." Belshazzar had been preached to and given every opportunity to accept God's will. He was without excuse. How many will have been warned and not heeded it? Belshazzar never made a move to repent or heed the dramatic testimony of his grandfather Nebuchadnezzar. Instead he decided to ignore God. But Isaiah says, "Woe to the man that strives against his maker." Still baffled and shaken by the "handwriting on the wall", it was one of Belshazzar's wives who told him about Daniel and suggested he send for him. When Daniel came in he saw the writing and at once knew it spelled doom for the haughty king. He rejected the king's offer of honor and pronounced this judgment from heaven.
Make Peace with Your Maker Today, O Man
Just because one of the fruits of the Spirit is longsuffering we should not be lulled into believing that God's patience has no limits. God is a God of peace and not strife, but he is also a righteous God and he not a 'respecter of persons'. He won't plead with us, or contend with us forever. This goes for Christians who lollygag about. Take heed ends-times brothers and sisters! That's right, saints; God will not strive with us forever, even Christians. "Let all those who name the name of Christ depart from iniquity." He will not tolerate nor abide hypocrites and double-minded men who profess Him with their mouth, but hang with sin and other wicked practices like unbelief and fearfulness. Anything that makes us fall short of God's grace and approval of that can jeopardize our peaceful relationship with him.
Daniel read the mysterious words, ''Mene, Mene, Tekel, Upharsin:" and said, "This is the interpretation of the thing: Mene; God hath numbered thy kingdom and finished it. Tekel; Thou art weighed in the balances, and art found wanting. Peres; Thy kingdom is divided, and given to the Medes and Persians." In that very night Belshazzar was slain and his kingdom fell. The Medes and Persians had re-routed the Euphrates River and bribed someone inside the city to open one of the iron gates at the mouth of the river. Walking unchecked down the dry river bed into Babylon, the army at once fanned out around the city and slaughtered the defenseless population, including the king and his family.
From the very beginning God told us that, "my Spirit will not always strive with man." Gen. 6:3 We should make peace with our maker as soon as He makes it available. It does not take the proverbial rocket scientist to know that none of us has a guarantee that we will be able to draw another breath. That's why God has warned us, "Today is the day of salvation." From the start, God warned man that there will be both a day of personal reckoning and a day of judgment for the whole earth. Thus the proverb which originated from this chapter's title: "the handwriting is on the wall." The handwriting has long been on the wall. The apostle Peter wrote about those people like Belshazzar who resist the warning which God has mercifully given about coming judgment, both individually and on the world. He wrote;
 "... be mindful of the words which were spoken before by the holy prophets, and of the commandment of us the apostles of the Lord and Savior: Knowing this first, that there shall come in the last days scoffers, walking after their own lusts, and saying, Where is the promise of His coming? For since the fathers fell asleep, all things continue as they were from the beginning of the creation. For this they willingly are ignorant of, that by the Word of God the heavens were of old, and the earth standing out of the water in the water: whereby the world that then was, being overflowed with water, perished'. 2 Peter: 2
I suspect that many Christians mock God's promise in the same fashion in their hearts even in this late hour of prophecy. Crazy! But true. They will miss the Rapture for sure. Daniel stood in the palace, before the mighty king and pronounced God's great and swift judgment on the most secure man in the world. No one is free or immune from God's judgment. God's spirit will not always strive with man. Give in to God today while you still have breath. "But the heavens and the earth, which are now, by the same word are kept in store, reserved unto fire against the day of judgment and perdition of ungodly men." 2 Peter: 3:7 Belshazzar is an abject lesson for end-time believers and non-believers, alike. Through his example all can see and understand the terror and swift judgment that will come on any soul who strives against God and repeatedly rejects His mercy or thinks to use his sacred things in an irreverent way, or take his name in vain. Belshazzar is a clear prefiguring of all those people who should know better (backsliding Christians and unbelievers alike), who, because of their hard heart, continue to walk down the broad thoroughfare of destruction until it is too late. Though the circumstances were more dramatic and awesome than most, Belshazzar's story is typical of those who reject their opportunities to be converted in their heart, even if they have a cloak of apparent righteousness of words thrown over their religious visage. God cannot be trifled with; we must handle sacred things with sacred hands and heart. It is both the calling of the Christian and the Christian duty, to be part of the Royal Priesthood, as so designated in 1 Peter 2:9.

Chapter 6
Reaping what we sow
Out of the
Lion's Mouth
We hope to drive home the point that the book of Daniel is God's secret end-times weapon prepared long ago to help end-times saints in their struggle against the forces of the antichrist as they wait patiently for their Lord's return. God declared in the final chapter of Daniel that the book's meaning was to be locked up until the time of the end when travel and knowledge would be increased and for nearly 2,500 years its prophecies and allegories have sat quietly dormant, waiting for the appointed time. Since the end of the Second World War, the meaning of the book of Daniel has gradually blossomed so that it is now able to be understood. The fact that the Church can understand the meaning and purpose of Daniel is, in itself, a sign that we sit on the precipice of Christ's return.
The serious student of Scripture can focus on each chapter and every verse of this unique book of the Bible with a single spiritual eye turned toward discerning their end-times significance. The testimonies recorded in the first six chapters of Daniel are micro examples testifying to the kind of faith which end-times saints must exhibit. These real-life personal testimonies help end-times believers know where the battle is, who the enemy is, and how to protect and hold on to the precious faith which God has given them. When we see Daniel in this light, as a prophetic foreboding of the battles of the end-times, then we will have little problem realizing that we are embroiled, like it or not, in a great life-and-death spiritual battle.
If we studiously absorb the lessons of Daniel and prayerfully allow God to incorporate them into our faith, Daniel's intended purpose will be fulfilled in us. Daniel's example will help us to defend our minds against deception and aid us in fending off spiritual attacks that otherwise would hamper our trust in God. The Bible says God's Word is the sword of the spirit and Daniel is given to the end-times believers as a sharpening tool to make their swords of the spirit razor sharp, equipping ready warriors to wield those swords against the relentless antichrist spirits that are ever at work trying to rob our courage and destroy one's faith.
A True Life Parable
Every Sunday school curriculum gives the Daniel and the Lions' Den a prominent place. The story is so familiar that it is easy to skip right over some of the end-times lessons because it is such a well worn saga. Bear with me as I briefly summarize the story just to refresh our memory. You may recall that a group of princes and high ranking officials, jealous of the power and influence bestowed on Daniel by the king, plotted to have the prophet put to death. The envious men had duped the king into signing a law that anyone who made petition to any god or man other than king Darius for a thirty day period would be thrown headlong into a den of hungry lions. Knowing that Daniel faithfully got on his knees three times a day to pray to God in his house in front of the same open window which faced Jerusalem; and knowing that no decree or threat would deter Daniel from worshipping and praying to his God, the conspirators assembled at Daniel's window to catch him in the act of breaking the new law. You'll also remember that the men were not disappointed. While Daniel knelt in repose in usual manner, his accusers called for the king's police and promptly had him arrested. The gloating weasels immediately took Daniel before the king and demanded of Darius that he enforce the ill-conceived law, which he immediately regretted instituting. Though the king was sorry he had signed the royal decree he could not overturn it, nor could he find a way to save Daniel. Sorrowfully, but with some hope that God would save Daniel, Darius consented to the law he had signed and allowed Daniel to be thrown to the lions. We all know the happy ending to the story.
The next morning the king anxiously raced to the den to see if God had kept Daniel safe. The king was delighted when Daniel replied to his call that all was well and that he was untouched by the hungry lions. The king was bursting with some powerful, but mixed emotions. He was relieved that Daniel, his right hand man, had been spared by God, but was seething with fury for Daniel's accusers. The testimony ends with Daniel being vindicated and honored and God being glorified throughout Darius' kingdom. The conspirators, you may or may not remember, were thrown to the lions along with their wives and children, where they all were immediately pounced upon, broken and torn to pieces, and eaten by the hungry, blood-thirsty beasts. The lesson taught over and over again in countless Sunday school class rooms and bible studies is the obvious one: God delivers those who put their total faith in Him. Daniel and the lions' den promises that God's people will be justified and that sinners will suffer the judgment. But there are some other teachings to be gleaned from the story that are particularly pertinent for those end-times saints who are waiting for the return of their redeemer.

Satan goes around like a Ravenous Lion
The book of 1Peter tells the elect to "Be sober, be vigilant; because your adversary the devil, as a roaring lion, walketh about, seeking whom he may devour: whom resist steadfast in the faith, knowing that the same afflictions are accomplished in your brethren that are in the world." 1 Pe. 5:8-9 See Satan Daniel suffered this fearful thing of being thrown to the lions for the benefit of the end-times saints to see graphically and clearly that Satan is a roaring lion seeking to devour whomever he can. Satan and his minions are the real lions in the den; Daniel represents the end-times saints who can be safe from their bite. People, who do the Devil's bidding, either out of ignorance or intentionally, are not the object of the roaring lion's most concentrated attacks. But the servant of God is a continual target. In Daniel's case the Devil first tried to scare Daniel into not relying on God anymore and when that did not work he literally used lions to try to destroy him so he could no longer serve God. Neither thing worked on Daniel and we can be sure that if we remain faithful, God will never let that happen to us either.
We must be in
Right Standing
in the Kingdom


of God
The key factor is that we remain faithful. End-times saints will take care to see that there is nothing that comes between them and God. No sin, no relationship, no worry, no desire, can interrupt or cause their relationship with God to be disjointed in any way. They can harbor no grudge against God. Verse four says, "

Then the presidents and princes sought to find occasion against Daniel concerning the kingdom; but they could find none occasion nor fault; for as much as he was faithful, neither was there any error or fault found in him.

" This would indicate we need to seek a

spiritual 'perfection'

if we are to be stable and secure and live peaceable lives in Christ. This verse is critically important because we should know that Satan and his servants continually scour the debris of our lives for anything which to condemn us or accuse us to the Father "

concerning the kingdom

". He and his demons are trash pickers looking for anything to use against us. This is why we are exhorted to "flee youthful lusts", to "follow after righteousness", and to accept the scolding of the Lord for our own good, that:

"

no chastening for the present seems to be joyous, but grievous: nevertheless afterward it yields the peaceable fruit of righteousness unto them which are exercised thereby".

 Daniel was untouchable because "

he was faithful, neither was there any error or fault found in him

". Perhaps his greatest quality was that he repented and had a humble repentant heart like that of King David and that was the key to his powerful faith.
See Chapter Nine: Daniel's Prayer
We must learn what it means in Christ and what it feels like daily to be in perfect and right standing with our God, for one of Christ's imperatives states: "Be ye therefore perfect, even as your Father which is in heaven is perfect." Matt. 5:48 Daniel stood tall in perfection because he bowed low in humility and reverential obedience to his Father in heaven.
The Bible calls Satan "the accuser of the brethren". He wants to find some unrighteousness, some sin, something that has crept into our relationship with God that causes us to be out of fellowship with him so he can accuse and attack us like he did with Job. If we cannot look God in the eye, or stand before Him with a clear conscience then Satan will use that as an opening to rob our peace and undermine our joy and faith. His hope is that he can condemn us and rob us to the extent that he can eventually kill our faith. The Devil goes about as a roaring lion seeking to devour whomsoever he can, but if he can't kill our faith he will accuse us and cause us to condemn ourselves in our own hearts. Remember the Devil comes to rob, destroy and to kill. If he cannot kill us or the thing God has created and achieved for us he will try to steal it, if he cannot rob us he will try to wreck it or break that which God has given us. He does not fight fair, or have compassion on the weak or pitiful. He is the father of all lies and will never let up on the saints of God as long as he has power to corrupt the lives and hearts of man. His special target, obviously, is those with Job-like, Daniel-like, faith.
End-times saints cannot afford to give Satan any ammunition. Our righteousness is in being clothed with the righteousness of Jesus. The way to do that is simply to hear His voice and be obedient. Jesus said, "My mother and my brethren are those who hear the word of God, and do it." This is our righteousness - obedience to our Lord. Daniel's simple obedience and unwavering devotion to the one true God delivered him from the death Satan had so dastardly tried to conjure up for him. When the king went to the den to see how Daniel fared against the lions, Daniel called out and said, ''My God hath sent his angel, and hath shut the lions' mouth that they have not hurt me: forasmuch as before him innocency was found in me; and also before thee, 0 king, have I done no hurt. "Vs. 22 God sent his angel and delivering power because Daniel was living a righteous life. The Bible says that God hears the fervent prayers of a righteous man. Our righteousness, in the end-times, is the blanket of blood of Jesus Christ shed for us on Calvary. If we are washed in His blood we will be obedient to God and it won't just be a mantle of words, but in deed also. This amounts to the better part of the teaching of the epistle I John. We are told in Galatians chapter 6 that against the fruits of the spirit, there is no law. The fruits of the spirit are grown in us through our attentiveness to God's Word and our obedience to His voice in our heart which is made alive by our yielding to the Spirit of God. If we are obedient, Satan's accusations are groundless. He will have no opening to harm our faith, no means to destroy or kill our faith. We must put off the old man and put on Christ. Be careful of cheap imitations offered by the frightened, lukewarm Church. No legalism, fundamentalism, false religion, or bogus person claiming to be Christ on earth can do what obedience to Christ can do for us to win peace and righteousness in us through the Spirit. Before Daniel was thrown into the lions' den the king said to him, "Thy God whom thou servest continually, he will deliver thee." As Daniel, end-times saints must prepare their hearts to serve God continually. Then God will hear our prayers and deliver us.
Daniel was not ashamed of his God
Verse 10 says "…when Daniel knew that the writing was signed [into law], he went into his house; and his windows being opened in his chamber toward Jerusalem, he kneeled upon his knees three times a day, and prayed, and gave thanks before his God, as he did aforetime. " he knew it was a setup, that his mortal enemy had arranged the plot. Daniel was not ashamed of his God and went to him for help in every matter. The Bible does not tell us what Daniel prayed to God that day, but He probably included in his prayer that he trusted God and whatever happened he was putting his life in God's hands. We can be sure that Daniel thanked God for His mercy and kindness and for being in control of all things in heaven and on earth. Having prayed, we can also be sure that Daniel did not apologize for his faith or for praying to God. End-times saints, also, will not apologize for their faith in Jesus Christ. Their prayers and supplications will continually ascend to the Father's throne regardless of the consequences which man or devil might threaten. They will hold fast to the name of Jesus and not deny His name and they will preach His gospel - in season and out of season. Though Satan and his demons accuse and condemn them, the perfected end-times saint will be steadfast in the faith. They will be spiritually faultless because of their total reliance on the Holy Ghost and their determination to cast off their self-righteousness so they can put on the righteousness of Christ, by obedience unto the voice of the Good Shepherd, the Holy Spirit.
Every person will reap what he sows
This testimony of the faithful servant, Daniel, and the antichrist's conspiracy to shut him up ends with a lesson most grave. The men that had concocted an evil trap to ensnare God's servant were caught in their own trap. ''And the king commanded and they brought those men which had accused Daniel, and cast them into the den of lions, them, their children, and their wives; and the lions had the mastery of them, and brake all their bones in pieces or ever they came at the bottom of the den."Vs 24 The New Testament says, "Be not deceived; God is not mocked: for whatsoever a man soweth, that shall he also reap. For he that soweth to his flesh shall of the flesh reap corruption; but he that soweth to the Spirit shall reap life everlasting." This sobering lesson is for Christians as well. Seeing that the men were put to death in the same way in which they had plotted to see the servant of God killed is a reassurance that God avenges the righteous and that the unrighteous reap their just reward. But all end-times saints must be keenly aware that all men reap what they sow, including born-again Christians. You cannot live in both worlds and thrive. This truth applies to everyone, whether an unbeliever or a believer.  Answering an altar call or becoming a baptized member of a church, as infant, teenager or grizzled old adult, does not give us license to do anything we want. As the word says, God is not mocked. The first letter of Paul to the church at Corinth says, "We must all appear before the throne of Christ, every man, to receive the works he has done in his body, whether good or bad." He was preaching to the choir here; speaking to the converted. Those words are spoken to born-again Christians as a reminder that no one is given an exemption from obedience. The sprinkling of 'holy water', partaking of communion, or ritualistic confession cannot be a substitute for righteousness, departing from iniquity and following after love and such things Like the men who secretly plotted to destroy Daniel, we do unrighteous works in secret, there will come a day of reckoning, and we will receive a proper reward, because with God there is no respecter of persons and we must reap what we sow. If we sow in the spirit through obedience to God we shall reap spiritual rewards. "For he that soweth to his flesh shall of the flesh reap corruption; but he that soweth to the Spirit shall of the Spirit reap life everlasting."Gal. 6:8 If we follow the flesh and its lust and work for selfish gain without a care for our brothers and neighbors we shall reap corruption and in the end our reward will be personal loss, if not destruction.
Daniel shows us the way to be delivered from
the mouth of the lion, dear saints.